Okay Folks.

I haven't been here much since I started this page. Well, I've visited quite often actually. But I haven't been posting. What keeps me from going for it?

Fear.

Fear of being all I am meant to be. Fear of success.

Fear of being BIG!

So.

Time for some action!

I'm starting this awesome class 6-week e-course on Sunday.
Guess what it's called?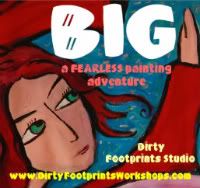 How perfect is that?!

I CAN NOT WAIT!

This is just the beginning folks!

I am so excited!

I am ready to embrace my fear, give a BIG fat hug, and FLY!!!

I'll be posting updates here. Come back often and see how I'm doing!

Thanks for sharing the journey with me!